Dr. Rebecca Lee
As a licensed optometrist, Dr. Lee provides exams, diagnoses, and treatments of all disorders that affect the eye or vision. She treats and manages ocular diseases often found in elderly populations including glaucoma, macular degeneration, cataracts, and diabetic retinopathy. Dr. Lee is also passionate about myopia control, fitting night-time Orthokeratology lenses, dual-focus multifocal soft lenses, or prescribing atropine therapy for children with progression myopia or nearsightedness. She also fits large-diameter specialty scleral contact lenses for eyes with irregular corneas or ocular conditions including keratoconus, pellucid marginal degeneration, post-LASIK or post-RK ectasia, and severe dry eye. She also speaks English, Cantonese, Mandarin, and some Spanish.
In her spare time, Dr. Lee enjoys an active lifestyle in fitness, with hobbies including boxing, rock climbing, hiking, crossfit, and yoga. You might also find her at Oracle Arena cheering for the Golden State Warriors.
Dr. Eileen Lo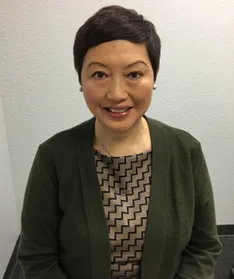 With 30 years of experience on vision care and more than 30,000 happy patients, Dr. Eileen Lo has been a California State Board licensed optometrist since graduating from the University of California, Berkeley, School of Optometry in 1986. She practices primary and advanced eye care at her practice, East Bay Vision Center Optometry, with three locations in the East Bay area, specifically Oakland and Fremont and Pleasanton. She is a member of the American Optometric Association (AOA), California Optometric Association (COA), Alameda Contra Costa Optometric Society (ACCOS), Orthokeratology Academy of America (OAA), International Academy of Orthokeratology (IAO), American Academy of Orthokeratology and Myopia Control (AAOMC).
Dr. Lo's primary goal is to provide patients with the highest quality eye care. As a T.P.A. (Therapeutic Prescribing Agents) Certified Optometrist, Dr. Lo can diagnose eye problems and provide treatment to a variety of eye diseases in addition to examining for glasses and contact lenses. She is Glaucoma certified and can diagnose and treat glaucoma patients. Dr. Lo also has extensive experience in co-management of laser refractive surgery, also known as LASIK, Cataract with premium IOL implants. She is also trained on fitting specialty lenses for patients with irregular corneas such as corneal ectasia, keratoconus, Pellucid cornea, as well as extreme dry eyes.
Distinguished as a Fellow of Orthokeratology Academy of America (FOAA), Dr. Lo has been fitting orthokeratology or CRT lenses on patients since 1996. With more than 20 years of orthokeratology experience, Dr. Lo has been successful working with myopia control in children's vision via CRT, soft orthok lenses, Dual focus lenses, and also Atropine ophthalmic therapy. Dr. Lo also has expertise in fitting contact lenses with astigmatism, presbyopia, and keratoconus. She can also fit hybrid lenses (Synergeyes Duette lenses) and Scleral GP lenses.
In addition to her work at East Bay Vision Center Optometry, Dr. Lo is dedicated to community service. Every year, Dr. Lo conducts vision screenings in elementary schools and low vision screenings in nursing homes. She believes that volunteering her time and professional expertise as a primary care physician is the best way to serve her community.